Page path:
Brasil: Marine litter
Local Beach, Global Garbage
Not only does Brazilian Fabiano Barretto relentlessly fight the marine litter polluting the beautiful bays of his home state Bahia. He also takes a stand for his compatriots on the coast to profit from the growing tourism. In 2011, he was awarded for his commitment with the "Green Palm Tree" by GEO Saison Magazine. And the project work continues until today.
The award to Fabiano Prado Barretto acknowledges his social and ecologic commitment on the beaches of Brazil. Barretto, who is 39 years old and living in Hamburg, is co-founder of the association "Local Beach, Global Garbage" based in Hamburg, which combats garbage and proves that much can be achieved.
"Soon it became clear to me that it will always be a Sisyphean task if we just collect the dirt", says the activist. "We need to avoid garbage. This is why our awareness raising work with port authorities, shipping companies but also with seamen is so important." In addition, problems such as poverty, lack of knowledge or child prostitution are encountered on the coast of Bahia. "We cannot just focus on the garbage. We also have to take care of the people.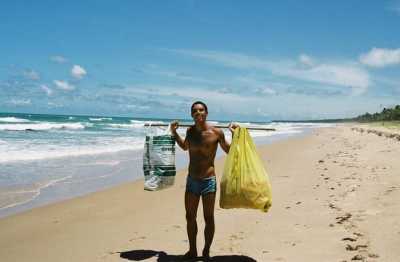 The project was supported by the Lighthouse Foundation from 2003 to 2013.
Over the time, the focus of project activities has expanded from initially environmental work to social work in the villages along the north coast of Bahia. It had become clear that collecting the garbage on the beaches and using the findings as an opportunity to sensitize local people about pollution and environmental protection was not enough. Almost at the same time, international tourism began to develop along the coastal region, with significant changes in the landscape and the social fabric. However, the resident population was not able to profit from this development right from the start, but was faced with a displacement process instead, which was favored by a low level of education and a lack of transparency in planning.

For LBGG as a nonprofit organization, the challenge has been to network with local people to develop ways and means to involve these people in the development of a rapidly growing tourism in a appropriate way.

An important prerequisite was to provided the locals with the modern communication tools such as the Internet, telephone or newspapers, as instruments to represent their interests and get information on sustainable and environmentally-conscious action.

The diverse activities have led to many offshoots of the organization LBGG, all of which have become independent and meanwhile "grown up". In this way, the work of LBGG could be multiplied and diversified in many places on the Costa dos Coqueiros, the north coast of Bahia. Especially in the area of ​​social inclusion of the people who live in the villages along the coast, great progress has been made in recent years.