Page path:
Timor-Leste: Par­ti­cip­at­ory con­ser­va­tion
Timor-Leste: Sus­tain­able coasts through par­ti­cip­at­ory con­ser­va­tion
The project focuses on Ma'abat, a coastal village in Manatuto District, about two hours east of Timor-Leste's capital city, Dili. On Ma'abat's coast, the village depends on mangroves for protection from flooding and storms, and reefs and seagrass as habitats for fish. Fishers in Ma'abat have noticed a decline in their catches and are concerned about their food security. Previous attempts to manage fisheries to promote stock recovery in Ma'abat have been unsuccessful due to low engagement in the community in designing management measures. However, the community of Ma'abat is eager to work towards a sustainable future.
What do you want to achieve in the long term?
Tara Bandu, Timor-Leste's customary law, is increasingly used by local communities to regulate small-scale fisheries and create locally-managed marine areas (LMMAs). In Ma'abat, we will work with the community to establish Tara Bandu in Lamsana Bay, which was identified as a key fish nursery and is considered sacred land by the community. The project supports the community's use of Tara Bandu for sustainable marine resource management, through a variety of participatory initiatives.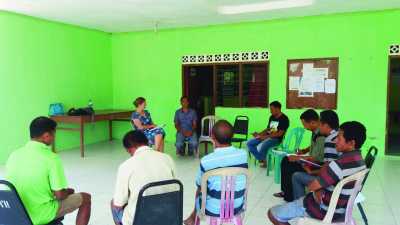 We visited our new site in Manatuto to discuss fishing and mangrove management and monitoring, TaraBandu, and how to integrate a sacred place into a new LMMA.
How are we going to achieve the long term goals?
The first milestone of the project will be performing the Tara Bandu ceremony to reinforce the sacred protection granted to Lamsana Bay. Following this, we will support the community on a variety of other activities to compliment the Tara Bandu activities. These will include training local women in participatory fisheries monitoring techniques to address the marginal role women have traditionally played; supporting the community to start a small mangrove reforestation initiative, co-designing a management plan for marine resources in Lamsana Bay with the community, and piloting chicken farming as an alternative livelihood option.
What are the main obstacles?
The main obstacles of the project include the time it may take to build trust with the community in Ma'abat, especially as Lamsana Bay is a sacred site and is shared by four different communities. Additionally, Lamsana Bay is relatively remote and access is restricted, so field visits will require complicated logistics and coordination between local partners. We will overcome this by planning well in advance, listening to the needs of the community, awareness raising activities and relying on local community partners to facilitate meetings and share information with the wider community.
With whom do you work together?
The project is working closely with the local administration of the four villages that own Lamsana Bay, especially with the chief of Ma'abat, who is considered the leading authority for the Lamsana area. We are also establishing a new partnership with a local conservation organisation, Konservasaun Flora no Fauna (Flora and Fauna Conservation (KFF)), who will support our work in mangrove conservation by providing technical expertise and organising community planting events.
We hope to support the local community to design and adopt a successful sustainable management plan for Lamsana Bay, implemented through traditional Tara Bandu law. The plan will ensure that fisheries are managed so that both coastal conservation and food security needs are met, empowering local communities to independently manage their own natural resources, and reviving traditional management practices.
Similarly, in East Timor, the ancient cultural practice of tara bandu, or acting in harmony with nature, plays an important role in resource protection.

Tara bandu uses local knowledge of conservation and maximizes the social capital of villagers. It strengthens the community bonds, and also helps to protect the environment. For example, if a community has a lagoon – an important habitat for fish and other aquatic species – the community will protect that lagoon with tara bandu rituals for a period of time to let nature have time to restore itself.
During this first year 2019, the project team has developed a solid foundation for the development and implementation of community-led marine management measures. The project team built positive relationships with the local authorities and created the CFM team, which will be the gateway to engaging the wider community.
In order to continue promoting trust with the community and their engagement in marine management, 2020 the project team will organise outreach activities such as film nights and mangrove planting, facilitate more exchanges with other communities using ​Tara Bandu​, and continue to support the CFM team. In parallel, the project team will continue to engage with the community leadership, both administrative and spiritual, in order to discuss how to best support the Ma'abat community in developing and implementing ​Tara Bandu.
Our biggest success 2019 has been the establishment of an all-female community fisheries monitoring group. Six women completed a training programme and are monitoring catches several times a week, collecting data on key fisheries that were identified by community members as important for their livelihood.
Our mangrove activities have also progressed very well. We have established a formal partnership and signed an MOU with KFF, the only local conservation organisation in Timor-Leste. KFF has discussed with community leadership and identified suitable sites and methods, and fieldwork should start soon.