Tun Sakaran Marine Park, also known as Semporna Islands Park, is the first marine protected area in Malaysia where locals live within protected areas, own part of the land and rely on the use of marine resources.

The Semporna Islands Project (SIP) was launched in 1998 as a collaboration between the Marine Conservation Society (MCS), Sabah Parks, WWF Malaysia and Nature Link. The aim was to create a biodiversity conservation and sustainable use plan for the Semporna islands and reefs covering an area of ​​approximately 350 square kilometers.

Since 2004, the Lighthouse Foundation has supported the Marine Conservation Society (MCS) on a variety of projects, notably strengthening alternative sources of income and mitigating dynamite fishing.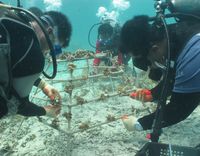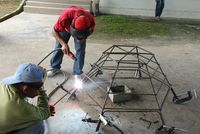 The project is completed, the final document is available for download.
Mariculture as an alternative source of income for coral fishermen in Sabah
There is a long tradition of using marine invertebrates in the Semporna area and, as a result, stocks of sea cucumbers, crustaceans, giant clams and other mollusks have declined. The resource-efficient management of these species has positive effects on both employment and economic benefits for the local people as well as the conservation of the coral reef community.
Dynamite fishing is still a common practice
Fish bombing causes significant habitat destruction, loss of biodiversity and negative impacts on fisheries, tourism and economic development. Despite being illegal, it still persists in Sabah because it yields a relatively large 'catch' in a short time and with little effort. Scientists estimate that 19% of reefs have already been destroyed and another 35% could be lost within 10-40 years as a result of over-exploitation, coastal development, tourism pressure, marine pollution - and destructive fishing practices.
Fish bombers use stealthy tactics to avoid being caught and increased surveillance and enforcement are urgently needed to halt this practice. Increased control is urgently needed to stop this practice. For this purpose an acoustic system has been developed that will detect and locate fish bombs in real time and allow immediate action to be taken to apprehend the perpetrators.
Sabah Parks staff has been involved and trained in all data gathering and operational procedures and the findings will be widely disseminated, so enabling use of the methodology in other problem areas.
Restoring degraded reefs
Repairing reefs on a big scale is very difficult and expensive, but small steps can be taken to make a difference. The Marine Conservation Society and Sabah Parks are demonstrating 'conservation in action' at key sites in the Marine Park by making and setting up 'coral frames' in bombedareas. These specially-designed units have been designed and tested by Seamarc Ptv from the Maldives. They are made from reinforcing bars which are readily available locally and are easy to handle and get into the water.
The aim of the project is to bring an end to fish blasting and to promote recovery of coral reefs that have been degraded or destroyed as a result of this practice. The drive to stop fish blasting will be through a combination of education, enforcement and community engagement.